Kunle Adeyanju has further proven that Nigerians are resilient people who would always find a way to accomplish whatever they set out to achieve. 
Adeyanju on Sunday, May 29 completed his road trip from London to Lagos after setting out on his motorbike on April 19, covering 12,000 kilometres. 
The Nigerian man is on a mission to end polio in Africa, hence the road trip from the European country. 
READ ALSO: Michael Showunmi: Meet the physically-challenged Nigerian teacher impacting lives
Adeyanju said he used the trip to create awareness on polio and to raise funds to eradicate the disease. 
Starting the journey on April 19, the Ikoyi Club member rode from London to Dover as he set out to France. 
According to Adeyanju who rode bicycle from Lagos to Ghana in 2008 and 2009, he crossed the English Channel with a ferry. He said the ferry stopped in Calais, France. 
From Calais, Adeyanju rode his bike to Bourges where he spent the night. 
He left Bourges for Girona, Spain, after which he rode to Valencia, then from Valencia to Cartagena. 
After leaving Cartagena, Adeyanju rode his motorbike called Eagle to Spain boundary where he bid Europe goodbye. 
He said he boarded a ferry to cross the Mediterranean Sea, adding that it passed through the Strait of Gibraltar. 
Adeyanju disembarked in Tangier, and from there he got to Rabat where he would continue the journey till he finally arrived in Lagos, Nigeria. 
He said he travelled to 14 countries throughout the journey and met with lots of hospitable people who gave him warm reception. 
The challenge he faced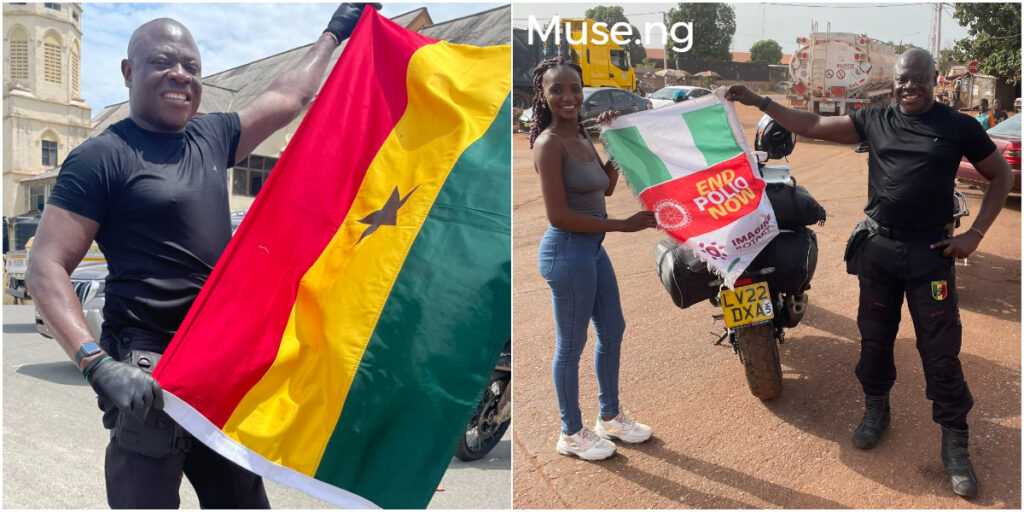 Adeyanju said crossing the Sahara Desert was the most difficult part of his journey. 
In his words: "The Sahara Desert is not a place where human beings should be. The place is unfriendly. If the heat doesn't kill you, the rain will, if the rain doesn't kill you, the sun will."
According to Adeyanju, he took him seven days to cross the Sahara Desert. 
Support from people 
Adeyanju said he didn't expect the support he got from people as he journeyed on his motorbike. 
According to Adeyanju, he met with volunteers who immunised children against polio. 
Adeyanju said people donated to the polio cause and the Rotary Club is the custodian of the funds. 
What's next for Kunle Adeyanju?
Adeyanju said his next adventure is to ride his motorbike from Lagos to Israel, then cover Asian countries. 
According to the adventurer, he would ride to Tibet so as to ride his motorbike on the Tibetan Plateau popularly called the Roof of the World and also climb the Mount Everest. 
Adeyanju said he doesn't know if the next adventure would be in two years, adding that it's definitely in the works.