A young Nigerian artist identified as Gloria Olarewaju has continued to inspire many as she promotes her country's culture in the NFT space.
She said despite the fact that she doubts her art, people appreciates what she does and pay for it.
Speaking with Muse.ng, the traditional and digital artist who does both pencil and biro drawings, said it means a lot to her when she sees people talk highly of her work.
Gloria uses her art to take people down memory lane and immerse them in Nigerian history and folklore.
READ ALSO: Nazquiat: Meet Nigerian artist paying tribute to stolen African artefacts through NFT
The young lady said she started drawing when she was little. According to Gloria, she started with sketching on her notebooks in secondary school.
She said after her National Youth Sevrice Corps (NYSC) in 2019, there was no job so she decided to pick up her pencil and started drawing portraits for people.
Gloria's journey into digital art
The graduate of Microbiology from the University of Ilorin said she ventured into digital art in 2021 where she joined a host of other artists in the NFT space.
She said her greatest moment as an artist is every time she picks up a pen or a biro to draw, adding that she finds comforts in drawing.
In her words: "Even before I started taking commissions, I'm always drawing. Posting on Facebook, posting on every platform just for the fun of it. It's fun to create something. I find it really beautiful. So every chance I get, I just want to create something nice. So the process is amazing.
"But the first time I sold my work as an NFT, I think that was a great moment for me. Because knowing that people actually pay for what I create is amazing.
According to Gloria, it shows that people actually appreciate what she does and they see value in it.
The young lady said she creates the designs in her head before finally drawing them.
In her words: "It's something that I design in my head and I create it, and someone actually wants it so much that they pay to get it. The feeling was amazing and it gave me some level of confidence. So that moment was great for me."
Speaking about supports from Nigerians, she said: "Nigerians are actually very supportive. I talk about culture in my drawing and Nigerians and foreigners relate with it very well.
"My first collection containing three pieces on Opensea was bought by Nigerians. I did a collection on the Yoruba, Igbo, and Hausa."
According to Gloria, foreigners also relate well with her art, adding that her second collection was bought by foreigners.
Challenges faced as an artist
The young lady who also makes shoes and bags, however, said it's not easy being an artist in Nigeria, adding that she has faced a lots of challenges as a traditional and digital artist.
According to Gloria, the fact that she's based in Ilorin, the Kwara State capital makes it more challenging for her because most people over there doesn't take her work seriously.
In her words: "When you create something of great quality, they see art as something you do to just past the time.
"And that's one of the reasons I stopped taking commissions, because I can't work on a piece for almost two weeks and be paid a penny, it doesn't justify my effort. So people not seeing the value in art is one of the greatest challenges as a traditional artist."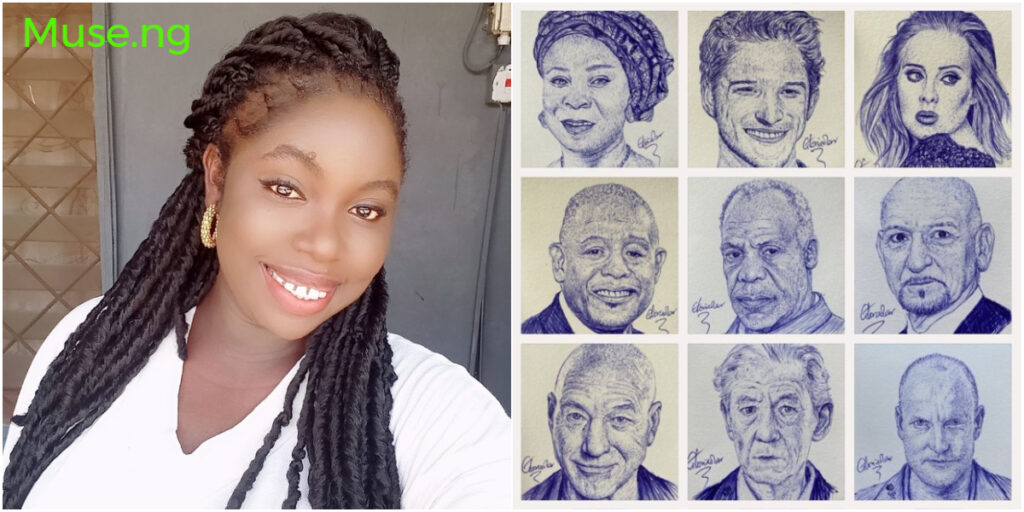 Gloria said the challenge she faces as a digital artist is the fact that her parents don't understand that what she does is a job.
In her words: "My parents are actually supportive but they don't understand that what I do is actually a job.
"Most days I will be drawing and maybe I have other things I'm supposed to do, and they will want me to prioritise those stuff over my drawings, and I'll be like, this is just as important as me getting an office job. It's not just a hobby, it's not just what I'm doing to while away time, it's actually a job. But now things are changing, they are actually seeing more value in it."
Gloria's goal
The young lady said she wants to be a renowned artist in the next five years, adding that she's still trying her best to learn painting traditionally.
In her words: "Although I've made some work which are impressive. So I'm hoping to develop my skills there also."
She said in the NFT world, she wants to build a well known brand that people will trust and resonate more with.