A young Nigerian man identified as Roid Olaowuye Fajingbesi has further proven that being fearless is one of the attributes that people need to achieve the unimaginable.
Fajingbesi recently rode his bike from Bayelsa to Lagos and has revealed that the rationale behind the journey was his quest for greatness.
According to the 22-year-old cyclist, his quest for greatness was the reason why he tagged the journey Fearless Journey to Greatness.
Speaking with Muse.ng, the young man said: "Basically, it's all about greatness. Because I believe the journey would make people know me, and they would want to know what next about me, that alone would promote my business (Roidfaj Technologies)."
READ ALSO: Meet Nigerian man Kunle Adeyanju who rode bike from London to Lagos, covering 12,000km; reveals next big adventure
He said his family didn't discourage him when he told them about the journey.
In his words: "They follow all my updates to know my whereabouts, and also call me to know if I'm okay."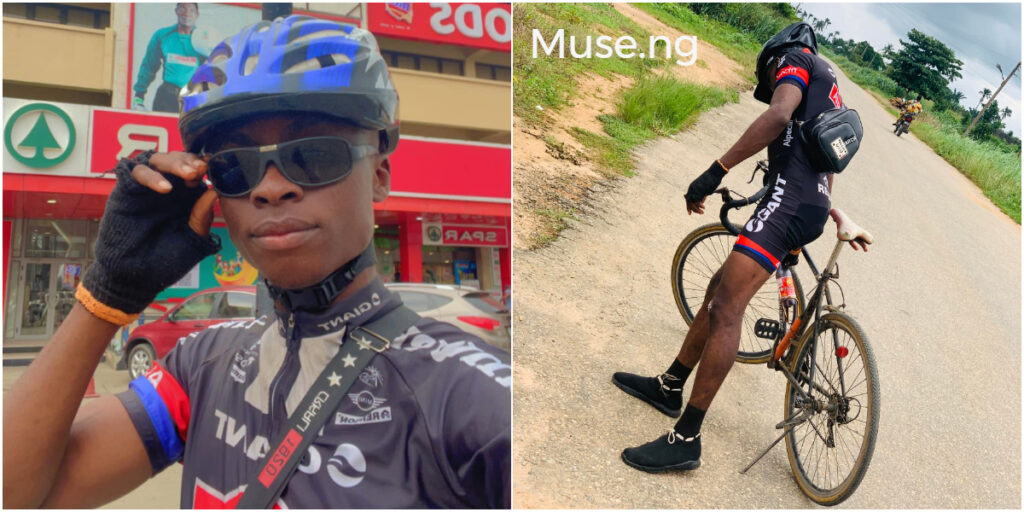 Challenges faced
The Ogun State indigene and student of Federal University, Otuoke, said he faced quite a number of challenges during the journey.
He said he had punctured tyre, people criticised him, and lack of funds because he had no sponsor.
Fajingbesi said he also had to cope with days when the sun was scorching and when it rained cats and dogs.
The young man said he would give accolades to Kunle Adeyanju who rode his bike from London to Lagos to raise funds for polio, adding that if given the opportunity he would do more than the latter.
What next for Fajingbesi?
The young man said he would be embarking on a fundraising ride on August 1 to 30 to save the lives of kid Nigerian kids.
In his words: "This ride is to save the lives of sick kids across the nation. Hopefully I see support and sponsors."